BRAND EFFAST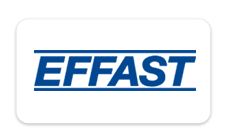 Swing Check Valve, Ball Valve UPVC, Check Valve, Buterfly Valve – EFFAST

If you want to check for other models of EFFAST Valve,
Please contact the Sales Department of KRUNG THAI EQUIPMENT CO., LTD. by:

E-mail at: shop@krungthaiequipment.com | Or contact us at our LINE OFFICIAL through

@kte_support


EFFAST produces from more than 30 years valves and fitting for high pressure pipe systems in PVC , ABS , and PPH polyfusion materials. Effast valves and fittings are easy to install , corrosion resistant , covers a wide range of temperature and have an excellent chemical resistance. All products are certified compound raw material which guarantees full security on mechanical and pressure resistance. All fit for contact with alimentary fluids and portable water and produced with ISO9001-14001 certified company.
Certifications
Our knowledge and expertise to bring innovation in all we do has helped us produce a specialist range of products and solutions that are always up to date with the very latest regulations and quality standards.